Professional Singapore Maths Tuition Services by Dr Loo
Specialize in Secondary Maths (O-level & N-level), & JC A-level Math Tutoring services
A Professional Secondary & JC H2 Mathematics Tuition Provider in Singapore
Hello! I am Dr Loo, a full time mathematics tutor in Singapore focusing on Singapore secondary math tuition and JC H2 maths tuition. Below are some of my description:
As of 2021, I have accumulated 9 years of teaching experience.
Most of my teaching focus is on teaching mathematics. (Secondary and tertiary level, including advising PhD students).
Pose Graduate Certificate in Education.
Been involving in various teaching position such as assistant professor, lecturer, mathematics & statistics advisor, math teacher, and tutor.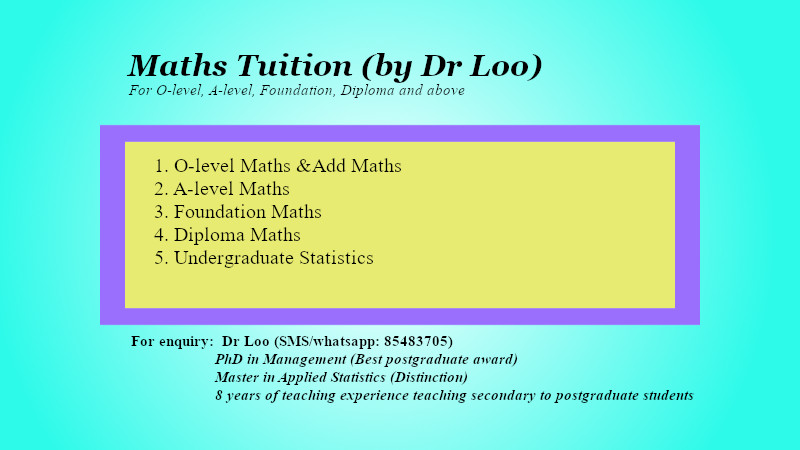 Teaching Focus
Singapore Secondary Math
Singapore A-level Math Tuition
Some of the trainings that I have attended/certificate I have obtained. Scroll down further for more information on my qualifcation.
Syllabus
Secondary O-level Elementary Mathematics (E-Maths)
Secondary O-level Additional Mathematics (A-Maths)
Secondary N-level Maths
JC H1 & H2 Maths
Mode of Tuition
1-to-1 Private Online Tuition
1-to-1 Private Home Tuition
Location
Student's places (Within Singapore)
Online platform (Zoom)
Intensive Group Class (Online)
Syllabus
Secondary O-level Elementary Mathematics (E-Maths)
Secondary O-level Additional Mathematics (A-Maths)
Secondary N-level Maths
JC H1 & H2 Maths
Class Size
4 to 7 students per class
Standard Tuition Class (Online)
Syllabus
Secondary O-level Elementary Mathematics (E-Maths)
Secondary O-level Additional Mathematics (A-Maths)
Secondary N-level Maths
JC H1 & H2 Maths
Class Size
9 to 20 students per class
Structure: Teaching individual solve math problem in structural way.
Comprehension: Emphasis the importance of understanding the question correctly in order to approach the problem in a better way.
Student confidence: Student's confidence is important for their academic success. I would ensure I devote enough attention to my students especially during the group class.
Exam preparation: It's never too early to start preparing for exam. Students will be taught how to tackle challenging questions even way before the exams so as to better prepare for coming examination.
Up-to-date Syllabus: I keep track on the latest change in education syllabus to ensure the completeness of my lesson coverage.
Name
Dr Loo
Gender
Male
Race
Chinese
Language
English, Chinese, Malay
Academic Qualification

PhD in Management (Major Finance, Best Postgraduate Award Recipient, UTM)
Master in Applied Statistics (Distinction, UM)
Graduate Certificate in Education (JCU)

Teaching Experience
9 years
Online Teaching Experience
5 years
Past Teaching Position

Assistant professor (Statistics, Economics)
Lecturer (Math, Statistics, Finance)
Mathematics and statistics advisor
Mathematics teacher
Private mathematics tutor

Teaching Related Training Received

Training on academic Practice (Theory of learning and pedagogies etc)
Postgraduate research advisor training

Total research publication
5 research articles
Tutoring Subjects

O-level E-Math Tuition
O-level Additional Math Tuition
JC H2 Math Tuition
The tuition charges are different according to the modes of tuition and the class size. You may click on the link below to refer to my tuition fee.
For 1-to-1 Tutoring (Online & Face-to-face): S$70/hour – S$110/hour
For Online Tuition Class: S$180/month – S$360/month
Time table for O-level Maths (A-maths & E-maths)
Time table for JC A-level Maths (H1 maths & H2 maths)
If there is anything that has not been stated feel free to contact me to discuss further.
Face-to-face Tutoring vs Online Tutoring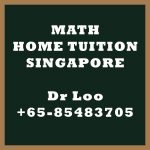 Mathematics Online Tuition
For those who prefer to have online math tutoring, I also provide mathematic tuition online.
Establishment of my Singapore Maths Tuition Services
After working in different educational sectors, I realized the importance on preparing pre-university students with a solid quantitative literacy in order for them to excel in many of the university modules. Thus, I decided to become a full time math tutor for secondary school and junior college to provide pre-university students with the best quality of maths education that I have developed. As a professional math tutor, I continually seeking to enhance my math teaching practice in order to achieve the better outcomes in terms of my students' math progression in secondary school and the math progression in junior college.
Name: Dr Loo's Math Specialist Tuition Services
Contact: +65-85483705
Operation Hours: 11:00 – 20:00 Mon – Sun
Math Tutoring Request
Interested to request for my math tutoring services in Singapore? You are invited to send in your query (name, tuition subject, home area) by whatsapp/sms/telegram to +65-85483705 (Dr. Loo) or submit your request form to appointment for phone discussion about the tuition.
Importance of Learning Mathematics
Mathematics is the study of numbers, shapes and patterns. It involves a varies of math topics with various application in our real life. One of the examples is the application of mathematics in financial management. Even in home decoration, you would need to know how to calculate the area when installing tiles in a dining room.