Professional Online Tuition Services for Singapore Maths
Specialize in Secondary Maths (O-level & N-level), & JC A-level Math Online Tutoring services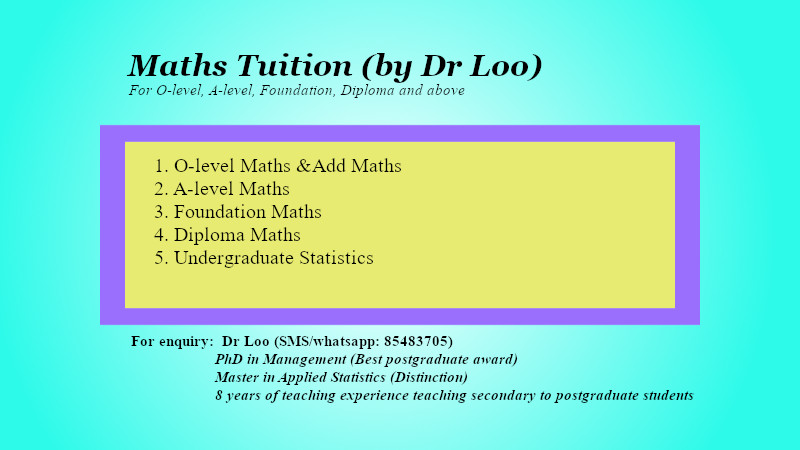 Teaching Focus
Singapore Secondary Math
Singapore A-level Math Tuition
Singapore Secondary Maths Online Tutoring Services
Online Singapore JC Maths Tuition Services
Foundation and Diploma Maths Online Tuition
Foundation Maths & Statistics
Foundation Mathematics Online Private Tutoring (Singapore)
Foundation Statistics Online Private Tutoring (Singapore)
Diploma Maths & Statistics
Diploma Mathematics Online Private Tutoring (Singapore)
Diploma Statistics Online Private Tutoring (Singapore)
Undergraduate and Postgraduate Online Home Tuition
Undergraduate Maths & Statistics
Undergraduate Mathematics Online Tutoring
Postgraduate Maths & Statistics
Postgraduate Mathematics Online Private Tutoring (Singapore)
Postgraduate Statistics Online Private Tutoring (Singapore)
Class Type
Online Private Tuition
Online Small Group Tuition
Online Standard Group Tuition
Class Size
3 to 6 students per class
Structure: Teaching individual solve math problem in structural way.
Comprehension: Emphasis the importance of understanding the question correctly in order to approach the problem in a better way.
Student confidence: Student's confidence is important for their academic success. I would ensure I devote enough attention to my students especially during the group class.
Exam preparation: It's never too early to start preparing for exam. Students will be taught how to tackle challenging questions even way before the exams so as to better prepare for coming examination.
Up-to-date Syllabus: I keep track on the latest change in education syllabus to ensure the completeness of my lesson coverage.
Name
Dr Loo
Gender
Male
Race
Chinese
Language
English, Chinese, Malay
Academic Qualification

PhD in Management (Major Finance, Best Postgraduate Award Recipient, UTM)
Master in Applied Statistics (Distinction, UM)

Teaching Experience
8 years
Online Teaching Experience
5 years
Past Teaching Position

Assistant professor (Statistics, Economics)
Lecturer (Math, Statistics, Finance)
Mathematics and statistics advisor
Mathematics teacher
Private mathematics tutor
Online Tutor

Teaching Related Training Received

Training on academic Practice (Theory of learning and pedagogies etc)
Postgraduate research advisor training

Total research publication
5 research articles
The tuition charges are different according to the modes of tuition and the class size. You may click on the link below to refer to my tuition fee.
For 1-to-1 Online Private Maths Tutoring: S$70/hour – S$95/hour
For Online Tuition Class: S$180/month – S$210/month
Time table for O-level Maths (A-maths & E-maths) Online Tuition
Time table for JC A-level Maths (H1 maths & H2 maths) Online Tuition
If there is anything that has not been stated feel free to contact me to discuss further.